services as systems
// THEME: OPEN DATA AND SMART CITY
Datacat is a service design project, completed in the second semester of the Service Systems Design Master's program at Aalborg University Copenhagen. From January - June 2015 the students Esben Grøndal, Lara Casciola, Maria Crucera and Andreas Jonsson worked to design a service system concept in answer to the following problem statement:
"How might we improve data literacy among youth in Copenhagen?"
Various co-creation and user participation methods were then used to develop a solution. In particular, a team of youth participants collaborated with the designers at multiple points in the project progression. Working closely with the youth resulted in valuable insights into both techniques for facilitating co-creation, and for engaging participants in a co-design process - both in general, and with regard to youth in particular.
Datacat ended up being a service system which integrates several components through a cloud-enabled application of the same name. The service provider is Copenhagen municipality, who uses the service to request data from youth about their experience of the city. Youth are made aware of the service as part of an educational module in their social science classes, which revolves around data literacy. Specifically, youth are taught about the implications of their digital data, as well as the way their urban environment is increasingly being enhanced by data. Datacat provides an overview of the user's online presence within a secure, personal section of the app called the Databox. Datacat also enables the user to access municipal calls for citizen data, called Challenges, in order for them to share their data in a conscious and responsible manner through the Datacat application. A Challenge is created by municipal workers wishing to include citizen input in the early stages of project planning.
The project scope and theme allowed the team to be very creative in their choice of methodology, and this was also the focus of a paper presented on the project and method at the ServDes conference 2016.
Click on the image below to read more about the project or read the Process Report or the Product Report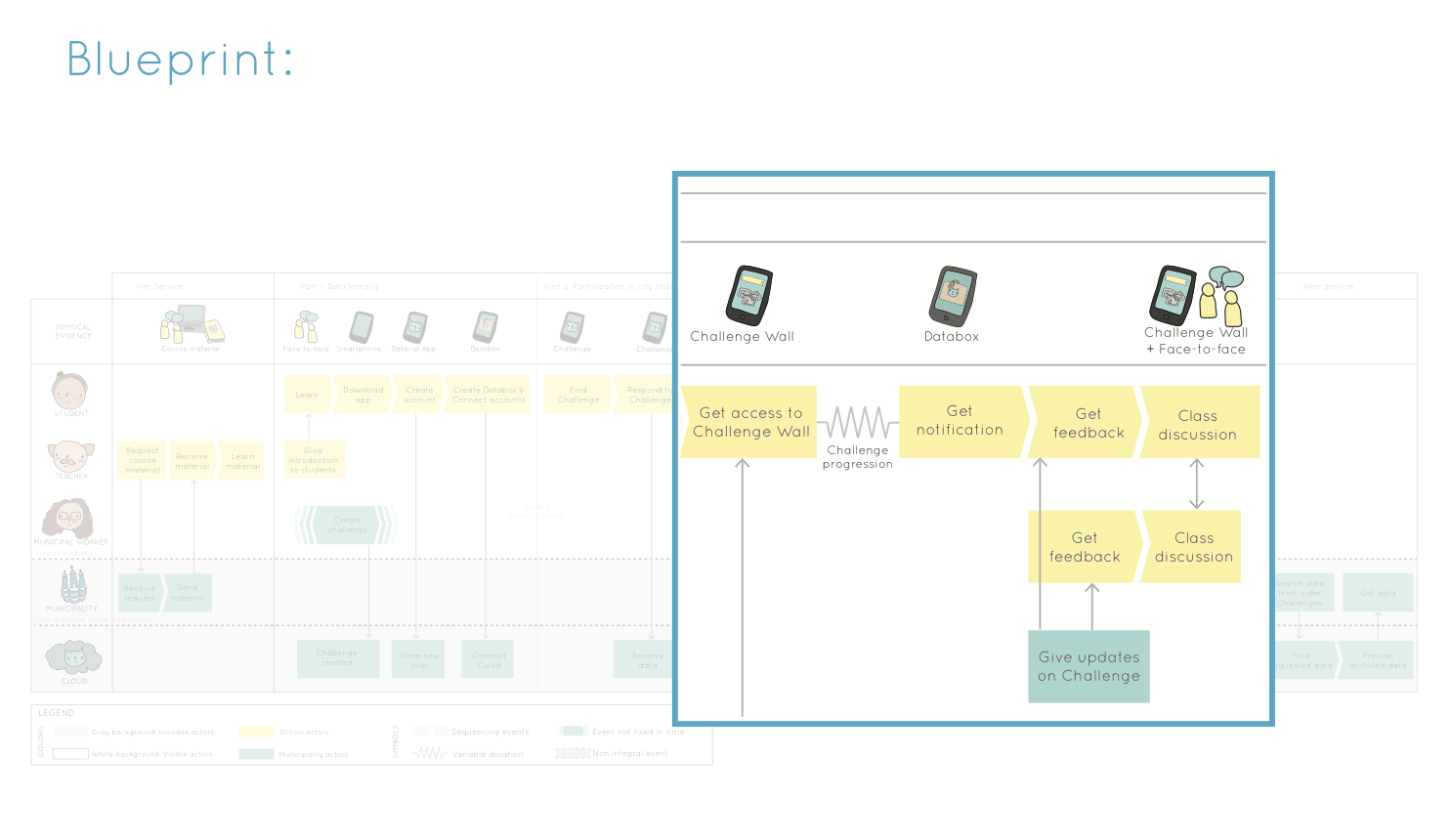 —
// THEME: REFUGEES
REFUJOURNEY
In this semester project, the students were asked to develop a project for the inclusion of refugees in their hosting country.
The group formed by Adriana Contopoulos, Jessica Ströhmann, Tania Willesen, Johannes Holt and Rógvi Sivertsen focused on the challenge:
"How can a service support and advise refugees arriving in Denmark, focusing on their individual identities and goals?"
The project resulted in the creation of Refujourney, a service that provides guidance and support in the different steps every individual refugee arriving in Denmark has to go through. Refujourney offers a mobile app that helps refugees to get an overview of the steps that await them when arriving in Denmark. By providing useful information about rights and opportunities in their individual situations, Refujourney provides the best possible support and makes processes more transparent and understandable for refugees.
Using a human centered design approach, refugees and asylum seekers currently living in Denmark, have been participating in co- creation sessions as well as end-user prototype testing. The research conducted has been based on desktop research, qualitative interviews and expert interviews.
Click on the images below to read further on their process and project report.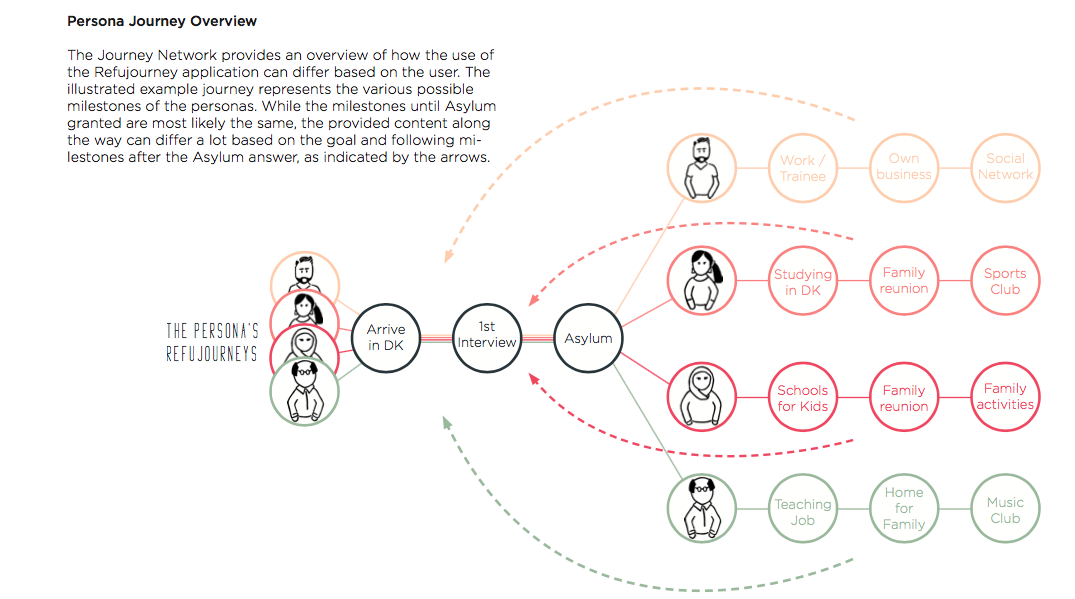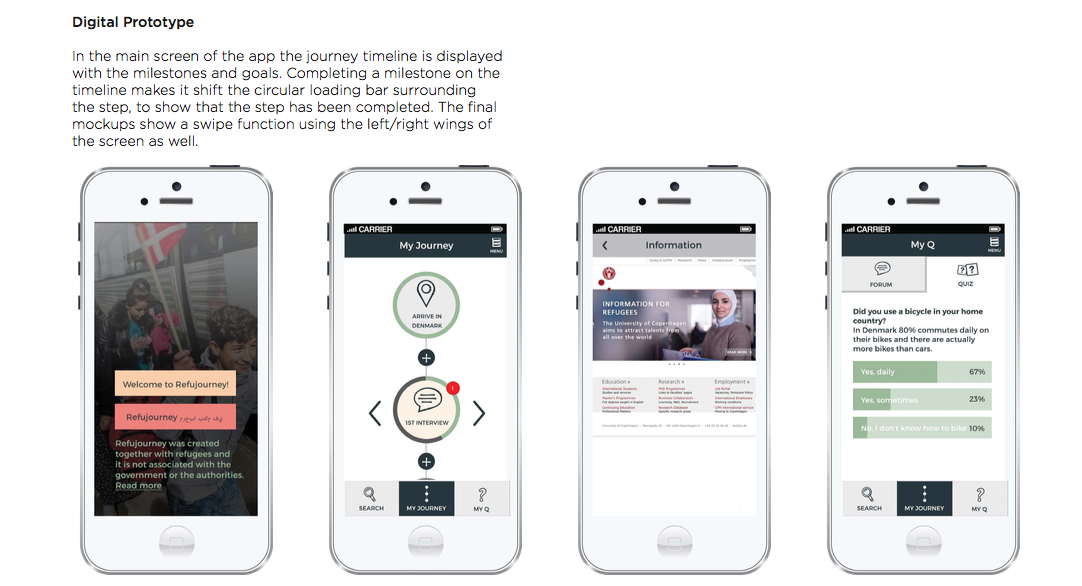 —
distributed systems
It is important for service designers to understand how systems are distributed when designing services. Our students learn how to translate complex systems into visual maps, identifying its essential elements, both in the frontstage as in the backstage.
—
// drive now
Distributed system for the car sharing service DriveNow made by Kevin Fox.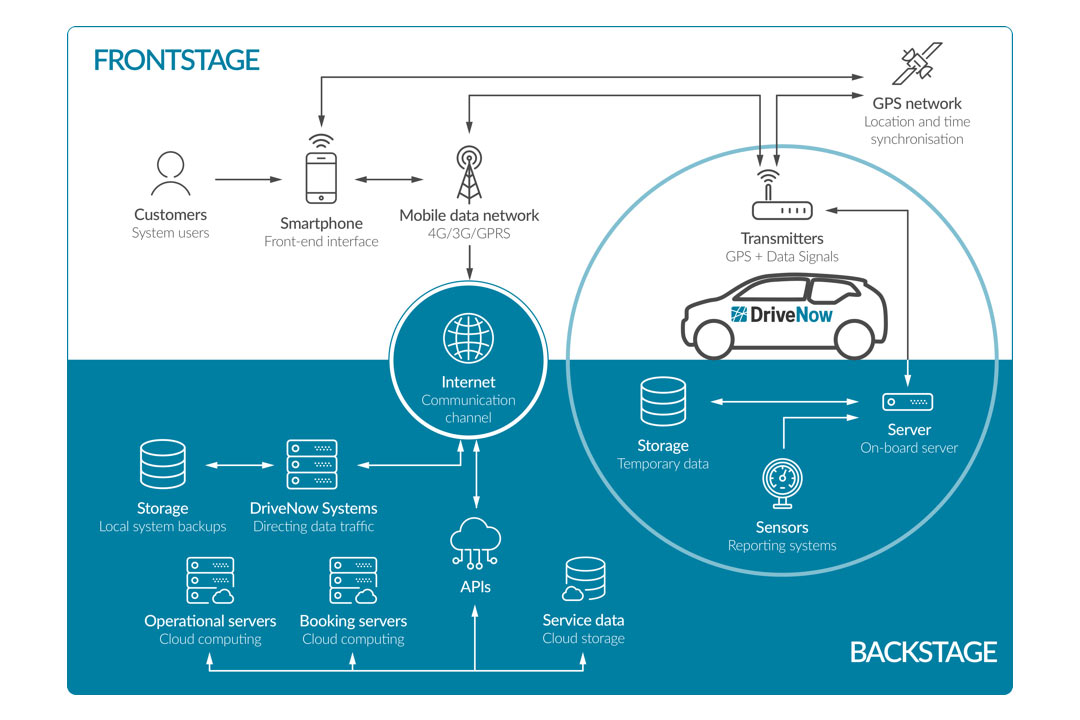 —
designing the experience
During this course, the students learn how to visualise future concepts by using design fiction and video sketching methods, where they learn different techniques such as stop motion, body storming and the basics of video editing. They get as well hands on with prototyping with Arduino.
—
// video sketching
Smells Lovely
Video by Jonas Rauff Mortensen, Fanny Giordano and Phuong Nguyen about a community dining service.

—
Animation about a service that connects refugees with locals by Alice Manfredi, Pascal Byrgesen, Christina Parlov, Nikolaj Thomsen and Freja Christiansen.
—
user participation and social innovation
In this course, the students reflect on the different kinds of users of services (f. eg. customers, patients, citizens) while learning co-creation and user participation facilitation methods for creating social innovation.
// Connecting Sydhavnen
The class was asked to work on a project to bridge the old and the new parts of Sydhavn, a neighbourhood in Copenhagen that has been challenged by a lack of connection in between its citizens. The project below was made by Rasmus Læssøe Kure, Alice Manfredi, Jessica Ströhmann, Kevin Fox and Gonçalo Nunes. Click on the images to read their project report.