i've learned new ways of thinking
"Service Systems Design is a design field which focuses on ethnography, co-creation and new solutions for a user in either an existing system or a new system. Having a background in interior and spatial design, this programme in Service Systems Design at Aalborg University Copenhagen has taught me new ways of thinking in how to design and for whom I am actually designing. There are many tools and methods that can be used when designing a service. One of the methods I really find helpful and inspiring is 'design thinking' - and it is surprisingly not just thinking about design.
I'm very glad to be studying in Copenhagen as it is one of the greatest cities I've been in, and I look forward to the next semesters I'm going to spend here learning and practicing service design."
Phuong Ng, m.sc. in service systems design
Focus on customer experience
"The master's programme in Service Systems Design broadens my horizon within the design process behind a service. The interplay
between user needs and expectations to a service and the actual experience is one of the key areas in this master. I have a background in Business Administration with focus on Strategic Management. Therefore, personally, my focus is on the user's experience whether the
service concerns an event in the financial sector, the transition from working life to retirement or something else. Apart from the good training, the international environment is worth mentioning. This year's class has students from all over the world which has resulted in many exciting projects. In fact, this was among the reasons why I chose Service Systems Design at Aalborg University; the various student backgrounds, cultures and approaches to the many projects."
Pascal Byrgesen, student of service systems design

Study form and content
Like all other AAU-programmes, the MSc in Service Systems Design is based on a combination of academic, problem-oriented and interdisciplinary approaches. It is organised in lectures, project work, workshops, expert supervision and other work and evaluation methods that combine skills and reflection.
The programme will give you professional competences within the following disciplines:
Industrial design
products, services, evidences and environments in which back office and front offices are physically placed
aesthetics, emotion and communication, especially in relation to interactions
user involvement and participation in value creation
Information technology
interaction between users and service providers
information and communication support to the service
Engineering and management
functional and organisational structure that support the service in the back office as well as in the front office
service strategy and business
Below is an outline of the four semesters: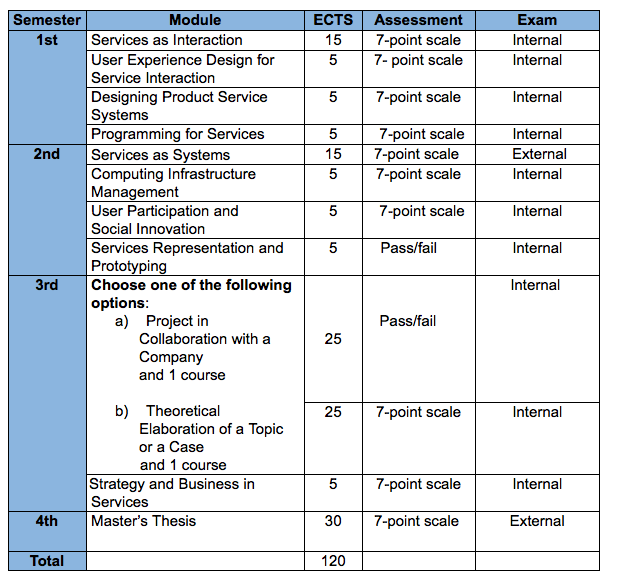 For a detailed description of the subjects, please check the programme curriculum.
The first part of the semester (September – October) contains more lectures than the second part (November – December), where the students spend most of their time working on their semester projects.
Further information
For a full description of the programme's academic content, please visit our studyguide.